Through our APPG meetings we provide external expert speakers to provide specialist knowledge for parliamentarians, helping them to build expertise. Our global policy engagement with think tanks, luminaries and parliamentary partners would be propelled and underpinned by these meetings to build research, diplomatic and policy maker consensus calling for bigger and better quality aid.
'UK Aid Match: Real Aid or Charity Washing Report Launch Event' with Special Guest Speakers
Tuesday 12th September 2023, (17:38-18:25), House of Lords Committee Room G
Chaired by Alex Sobel MP
Dr Martin Scott – Report Remarks
The Report author is an Associate Professor in Media and Global Development at the University of East Anglia, UK. He introduced the new report he has produced for the APPG 'UK Aid Match: Real Aid or Charity Washing?'. The report looked at the associated communications requirements attached to UK Aid Match. In all there were over 14 billion opportunities to see (O.T.V.) or 200 opportunities per person in the UK an advertising value equivalent of £2.2 million. But this requirement was very constraining for smaller charities who do not have the reach to deliver the required O.T.Vs. This means the selection choice is too limited to enable real public choice on where money goes especially when just 0.2% of the budget goes into Aid Match.
The requirement to have ministerial involvement in at least one piece of publicity for aid was seen as a dampener on donations. Key conclusions: remove the O.T.Vs. requirement and the need to publicise ministers, raise to 2% of spend to give the public a real say in where the money is spent.
Chris Law MP – Report Remarks
The Report's Message to Policymakers is by Chris Law MP, the Scottish National Pary (SNP) Member of Parliament for Dundee West. Law is the APPG for Aid Match co-chair and is currently a member of the International Development Select Committee, Sub-Committee on the Work of the Independent Commission for Aid Impact (ICAI), and the Committee on Arms Exports Controls (CAEC). Since 2017, Chris has been the SNP's Shadow Secretary of State for International Development and Climate Justice.
Chris lamented the recent cut from the UN agreed 0.7% GDP commitment to aid down to 0.5%., the merging of development into the foreign affairs brief and the use of a third of the budget on asylum seekers in the UK. This is at a time when the world is faced by post Covid economies, climate change and conflict. He congratulated the report's authors for hitting the nail bang on the head.
Rio Ferdinand OBE – Keynote address
Set up by legendary England footballer Rio Ferdinand in 2012, the Foundation addresses issues of inequality that Rio had experienced in his own life, growing up in Peckham, South London. Supporting and empowering young people from working class communities, tackling racism and inequality, and providing opportunities and pathways to deliver social mobility and realise personal potential were, and remain, the cornerstones of our work.
Since 2012, the Rio Ferdinand Foundation has worked hard to dispel limiting beliefs in society. Now working in communities across the UK and Ireland, with regional hubs in London, Manchester and Belfast, we have supported over 10,000 young people to tackle the inequality they face in their lives and realise their own potential.
'Strengthening Democracy (and Weeding out Corruption) – Africa and Beyond' with Special Guest Speakers
Tuesday 21st March 2023, (17:33-18:46), House of Lords Committee Room G
Chaired by Alex Sobel MP
Dr. Mo Ibrahim – Keynote address
Telecoms entrepreneur and billionaire philanthropist, Dr Mo Ibrahim is the Founder and Chair of the Mo Ibrahim Foundation, which he established in 2006 to support good governance and exceptional leadership on the African continent and is the Co-founder and Co-chair of the Africa Europe Foundation.
Dr Mo Ibrahim talked about his background and how it led to the establishment of his foundation. Ibrahim passionately raised systemic issues impeding Africa, such as illicit financial flows, international commercial corruption that are perpetuated by the West, and how this has prevented the continent from achieving its potential. He showcased the work of his foundation; its African leadership prize to promote good governance and healthy role models of leadership. He described his Index which tracks a robust set of governance and development indicators for Governments to deliver growth and inclusion for African societies. Dr Mo Ibrahim's pioneering methodologies is moving the needle on African development and democracy.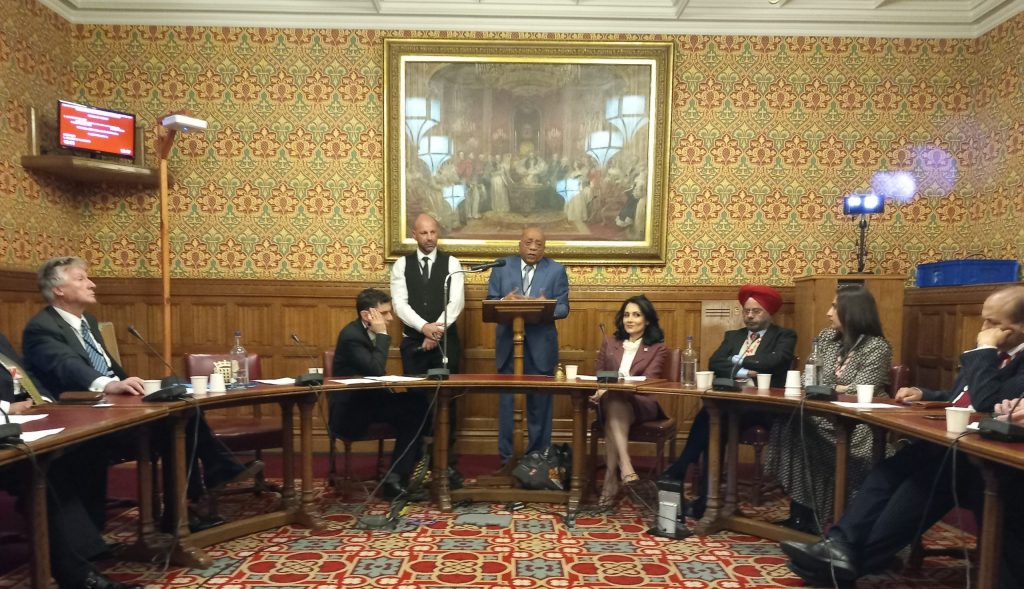 Ambassador Thomas Stelzer – Remarks
Ambassador Thomas Stelzer is IACA Dean. IACA advances the UN's Convention Against Corruption by offering technical assistance for states, organizations, corporations, and stakeholders. Its programs provide skills necessary to root out corruption and improve the rule of law, good governance, and accountability.
Ambassador Thomas Stelzer talked on the importance of education on anti-corruption and set out practices on how to carry out this education. He addressed the importance of fighting corruption to meet UN SDGs.  He made more specific reference to the importance of the anti-corruption work in relation to UN SDGs in Africa.