We highly regard the luminaries who have praised the MM Aid Model as inspirational figures. Below are excellent reads which also give you further insights into their exceptional works and will give you a sense of their intrepid activism, happy reading!
Karma Kurry – Jeroninio Almeida & Jyoti Nanda
A compilation of soul-stirring and heart-warming tales, Karma Kurry for the Mind, Body, Heart & Soul celebrates the journey and triumph of the human spirit. Every human being has a hero within; a dynamic and compassionate being who has the power to influence and mould the world. The powerful narratives in this book are the stories of just such heroes, who have radically changed society for the better."[These stories] have that power to inspire people to rise and act, to make a difference." – NELSON MANDELA
Cosmopolitanism: Ethics in a World of Strangers – Kwame Anthony Appiah
This landmark work challenges the separatist doctrines which have come to dominate our understanding of the world. Appiah revives the ancient philosophy of Cosmopolitanism, which dates back to the Cynics of the 4th century, as a means of understanding the complex world of today. Arguing that we concentrate too much on what makes us different rather than recognising our common humanity, Appiah explores how we can act ethically in a globalised world.
Occupy- Noam Chomsky
'Occupy is the first major public response to thirty years of class war.'
Since its appearance in Zuccotti Park, New York, in September 2011, the Occupy movement has spread to hundreds of towns and cities across the world. No longer occupying small tent camps, the movement now occupies the global conscience as its messages spread from street protests to op-ed pages to the highest seats of power. From the movement's onset, Noam Chomsky has supported its critique of corporate corruption and encouraged its efforts to increase civic participation, economic equality, democracy and freedom.
Peace Is the Way: Bringing War and Violence to an End – Dr. Deepak Chopra.
Deepak Chopra's book takes its title from a famous quotation: 'There is no way to peace. Peace is the way.' Mere variations on the theme of conflict will never get us where we want to go. We must take an evolutionary leap into a new way of being.
According to Dr Chopra, war is a deeply ingrained habit that needs to be replaced. And beyond that, 'If the way of peace is to succeed, it must offer a substitute for everything war now offers.'
The Last Trek: A New Beginning: The Autobiography- F.W. de Klerk
An autobiography by the politician credited with dismantling apartheid in South Africa. The book explains what had motivated apartheid and how the system ended. It offers the author's thoughts on where South Africa is heading and what place the Afrikaner people might have in the new South Africa.
The Alchemist – Paulo Coelho
The Alchemist presents a simple fable, based on simple truths and places it in a highly unique situation. And though we may sense a bestselling formula, it is certainly not a new one: even the ancient tribal storytellers knew that this is the most successful method of entertaining an audience while slipping in a lesson or two. Brazilian storyteller Paulo Coehlo introduces Santiago, an Andalucian shepherd boy who one night dreams of a distant treasure in the Egyptian pyramids. And so he's off: leaving Spain to literally follow his dream.
The Vision of Peace: Faith and Hope in Northern Ireland – Mairead Corrigan Maguire
'The Vision of Peace', edited by John Dear, features the first ever collection of writings by Mairead Corrigan Maguire, the 1976 Nobel Peace Prize winner from Belfast.
Desert Flower- Waris Dirie
Waris Dirie lives a double life – by day she is a famous model and UN spokeswoman on women's rights in Africa, at night she dreams of her native Somalia. Her story is a truly inspirational and extraordinary self-portrait of a remarkable woman whose spirit is as breathtaking as her beauty.
Climate Change: Financing Global Forests: The Eliasch Review – Johan Eliasch 
An area of forest the size of England is cut down in the tropics each year. Forestry is responsible for a fifth of global carbon emissions – more than the entire world transport sector. Climate Change: Financing Global Forests is an independent report commissioned by the UK Prime Minister to address this vitally important issue. In this comprehensive and detailed report, Johan Eliasch makes a clear and forceful case for forests to be included in international carbon trading mechanisms. He calls for the international community to support forest nations to halve deforestation by 2020 and to make the global forest sector carbon neutral by 2030.
The Fry Chronicles – Stephen Fry
Welcome to Stephen Fry's The Fry Chronicles, one of the boldest, bravest, most revealing and heartfelt accounts of a man's formative years that you will ever have the exquisite pleasure of reading.
Stephen Fry's film, stage, radio and television credits are so numerous and wide-ranging that there is not space here to do them justice. It is enough to say that he has written, produced, directed, acted in or presented productions as varied as Wilde, the TV series Blackadder and Jeeves and Wooster, the sketch show A Bit of Fry & Laurie, the panel game QI, the radio series Fry's English Delight and documentaries on subjects as varied as manic depression, disappearing animals and the United States of America.
Divided Nations: Why global governance is failing, and what we can do about it – Ian Goldin
With rapid globalization, the world is more deeply interconnected than ever before. While this has its advantages, it also brings with it systemic risks that are only just being identified and understood. Rapid urbanization, together with technological leaps, such as the Internet, mean that we are now physically and virtually closer than ever in humanity's history. We face a number of international challenges – climate change, finance, pandemics, cyber security, and migration – which spill over national boundaries.
Soil Soul Society: A New Trinity for Our Time – Satish Kumar
A new trinity for our time. We are members of a one-earth society, and caring for the earth and soul is interrelated! This is the message of Satish Kumar, the internationally-respected peace and environment activist who has been gently setting the agenda for change for over 50 years. In Soil, Soul & Society, Satish presents the new trinity for our age of sustainability. One that shares the knowledge that we ourselves are very much part of nature; that what we do to nature we in fact do to ourselves; and that the earth is soulful.
The Art of Happiness: A Handbook for Living – The Dalai Lama
This will be the first book by the Dalai Lama written to appeal to a general audience and focusing on the practical application of his spiritual values.
The Dalai Lama's commentary is amplified and augmented from a contemporary western perspective by psychiatrist Howard Cutler to make this a genuinely accessible self-help guide.Addressing every kind of daily problem, the subjects covered include: the sources of happiness; desire and greed; marriage and romance; resolving conflict; facing our suffering; overcoming fear and anxiety; anger and hatred; honesty and self-confidence; finding balance.
Planning, Shortage and Transformation: Essays in Honor of Janos Kornai – Eric Maskin
The three major themes of Janos Kornai's work reflected in the title of this book–planning, shortage, and transition, or transformation–figure prominently in the essays. After a philosophical introduction by Edmond Malinvaud, the book is divided into three sections: Markets and Organizations, Theory of Transition, and The Transitional Experience.Janos Kornai is one of the world's leading experts on the economics of socialism and transition. An early advocate of reform in Hungary, he has written penetrating analyses of centrally planned economies and their transformation to market-oriented systems.
The Economics of Killing: How the West Fuels War and Poverty in the Developing World – Vijay Mehta
Globalisation has created an interconnected world, but has not diminished violence, militarism and inequality. The Economics of Killing describes how the power of global elites, entrenched under globalisation, has created a deadly cycle of violence.
Mehta argues that a different world is possible, based on policies of disarmament, demilitarisation and sustainable development. This original and thought-provoking book will be of great interest to anyone concerned about the consequences of endless war fuelled by the West.
Mass Flourishing: How Grassroots Innovation Created Jobs, Challenge, and Change – Edmund S. Phelps
In this book, Nobel Prize-winning economist Edmund Phelps draws on a lifetime of thinking to make a sweeping new argument about what makes nations prosper–and why the sources of that prosperity are under threat today. Why did prosperity explode in some nations between the 1820s and 1960s, creating not just unprecedented material wealth but "flourishing"–meaningful work, self-expression, and personal growth for more people than ever before? Phelps makes the case that the wellspring of this flourishing was modern values such as the desire to create, explore, and meet challenges.
A book of immense practical and intellectual importance, Mass Flourishing is essential reading for anyone who cares about the sources of prosperity and the future of the West.
The Live Earth Global Warming Survival Handbook: 77 Essential Skills to Stop Climate Change or Live Through It – David de Rothschild
The earth is warming, the fuel is running out, and the polar bears are in some serious trouble – what can we do?
Help is at hand, in this fun, informative and indispensable guide, full of practical suggestions for averting climate change and some emergency suggestions to survive it. From the quick and easy changes, such as replacing one light bulb with an energy-efficient bulb and saving £25, to reducing your carbon footprint, these are real ways to change the way you live, change the world, and save some money!
Development as Freedom – Amartya Sen
In Development as Freedom Amartya Sen explains how in a world of unprecedented increase in overall opulence millions of people living in the Third World are still unfree. Even if they are not technically slaves, they are denied elementary freedoms and remain imprisoned in one way or another by economic poverty, social deprivation, political tyranny or cultural authoritarianism. The main purpose of development is to spread freedom and its 'thousand charms' to the unfree citizens.
Let IT Go – Dame Stephanie Shirley
Dame Stephanie Shirley is one of Britain's leading philanthropists and has donated most of her life to helping good causes, especially those close to her heart. This fascinating memoir charts Dame Stephanie's life from her time as a child in Germany and arrival in England as an unaccompanied Kindertransport refugee through to her retirement and dedication to charity. It is an amazing read which will take you through the entire range of emotions – from happiness at the success of her original company Freelance Programmers through to the ultimate sadness of losing her only child.
Tragedy of the European Union: Disintegration or Revival? – George Soros
Renowned financier and philanthropist George Soros reveals the roots of Europe's current financial crisis and comprehensively assesses the consequences of that crisis for the global economy and on the political ideals embodied by the European Union. In this concise and illuminating volume, renowned financier George Soros examines both the political and economic fault-lines of the European Union to reveal the roots Europe's current financial crisis.
The Economics of Climate Change: The Stern Review
There is now clear scientific evidence that emissions from economic activity, particularly the burning of fossil fuels for energy, are causing changes to the Earth´s climate. A sound understanding of the economics of climate change is needed in order to underpin an effective global response to this challenge. The Stern Review is an independent, rigorous and comprehensive analysis of the economic aspects of this crucial issue. It has been conducted by Sir Nicholas Stern, Head of the UK Government Economic Service, and a former Chief Economist of the World Bank.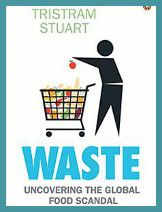 Waste: Uncovering the Global Food Scandal- Tristram Stuart
With shortages, volatile prices and nearly one billion people hungry, the world has a food problem – or thinks it does. Farmers, manufacturers, supermarkets and consumers in North America and Europe discard up to half of their food– enough to feed all the world's hungry at least three times over. Forests are destroyed and nearly one tenth of the West's greenhouse gas emissions are released growing food that will never be eaten. While affluent nations throw away food through neglect, in the developing world crops rot because farmers lack the means to process, store and transport them to market. But there could be surprisingly painless remedies for what has become one of the world's most pressing environmental and social problems.
No Future without Forgiveness – Desmond Tutu
The establishment of South Africa's Truth and Reconciliation Commission was a pioneering international event. Never had any country sought to move forward from despotism to democracy both by exposing the atrocities committed in the past and achieving reconciliation with its former oppressors. At the center of this unprecedented attempt at healing a nation has been Archbishop Desmond Tutu, whom President Nelson Mandela named as Chairman of the Truth and Reconciliation Commission. With the final report of the Commission just published, Archbishop Tutu offers his reflections on the profound wisdom he has gained by helping usher South Africa through this painful experience.
How Not To Go To War– Vijay Mehta

War has been institutionalised. Giant military industries, formed from thousands of companies and employers, ensure that every old generation of war profiteers is replaced by a new one. In 2017, the world spent all time high $1.7 trillion on its uniformed fighters. That's equivalent to about a thousand dollars per family on the planet. Yet all these weapons have not made the world less violent. The book finds that the institutions of war need to be matched by institutions of peace. For every department of defence, there needs to be a department of peace that allocates public resources to forestall violence and militarism, by measures of pre-emptive conflict resolution rather than waiting for it to occur and then deploying violence against it.