DISPARITY Movie: Exposing the $150bn Poverty Industry + Inspiring Solutions, Inequality Documentary –  Over ¾ million YouTube views
With inequality raging to the highest levels in history, reducing the appalling disparity between the rich and poor is arguably one of the most critical issues facing humankind today. There hasn't been a major film about the biggest issue of our time. Until now.
Disparity is subtitled in 10 languages and is exclusively available for free viewing & sharing here on this Youtube link below and Video YouTube page here Watch Disparity now
Featuring 9 Nobel Laureates, Ben Kingsley & an All Star Cast, Disparity explains the biggest issues of our time. It shows how our money is used to enrich power & profits, at the expense of poor people & it unveils major solutions to unlock billions for charity, to help save & lift millions of lives.
Whether you are from a major Donor Country who gives aid using your taxpayers money OR if you are from a recipient Country of Foreign Aid and you want to know about the delivery of aid we ALL have a stake in this agenda. Disparity is bypassing the traditional film industry and is now directly available in multiple languages to the public for immediate free viewing and sharing on YouTube Tiger Tim Media channel in an urgent call for action to tackle the systemic disparity which blights the world.
Our Poverty Documentary YouTube channel offers new videos, new films & new movies free to view on Youtube. Free to watch movies, YouTube videos to watch for free, YouTube feature films, subtitled movies & YouTube videos are available on our documentary channel. Disparity, a poverty documentary film and a feature YouTube video by Renu Mehta has subtitles in 10 Languages; English, Spanish, Portuguese, French, German, Dutch, Hindi, Arabic, Bengali & Mandarin.
In a unique collaboration – and a vital contribution to the debate – the Real Aid Campaign in association with the world's largest organisation of media professionals – The International Federation of Journalists (IFJ) and its affiliates represent 600,000 media professionals in more than 140 countries co-presented this major new documentary film, Disparity, in the global fight against poverty and for social justice. Journalists unions and activists across the world from New Zealand to Peru joined forces in a historic 24 hour event across all the time zones from 17th October, 2019 on The International Day for the Eradication of Poverty. The film makes a clear call for change and increased funding for civil society, while highlighting the plight of journalists in the face of repressive conditions.
Q: What proportion of Foreign Country Aid gets delivered through international charities?
A: Only 11.6% of Country Aid is channelled through other organisations before reaching frontline charities and this figure includes a small percentage of direct funding to international charities/NGOs. So where does the rest of the Foreign Aid budget go?
On the one hand Disparity Film shows that almost 20% of Aid is given to recipient countries with 'strings attached' to advance the Donor's own economic and political interests. On the other hand Foreign Aid is actually powering exciting innovative solutions on the ground. One of those featured solutions is being advanced by the Real Aid Campaign; the $100bn MM Aid Model that is working to clean up Foreign Aid and to double its funding for global charities.
Ultimately, the Film shows that Poverty isn't inevitable. The taxpayer is directly connected to charities beyond their private giving and that Disparity film is really about how people can become informed and empowered to challenge Government Aid to boost the work of their favourite charities, to help the world's poorest to win their struggle against poverty.
It's up to us to shape the global Aid agenda, we have made available the tools for you to express your deep concern for growing inequality and poverty. Individuals and activists who are concerned about our future such as students and civil society groups are invited to host their own events, along with global influencers; cultural icons, bloggers & vloggers and community activists who will be sharing this vital message on social media under the unifying hashtag #ourdisparity.
Hosting a screening is easy. You need a computer, a projector and a screen – and commitment! And why not invite interested parliamentarians, high profile guests and your colleagues. For more ideas on how to organise your screening and make it a success we've made it easy; view our Host a Disparity Screening guide to learn how you can hold your own film screening event, helping to share the films message and move public opinion in support for the fight for Real Aid.
If you take action and WATCH & SHARE, you would be at the heart of driving this grassroots movement for Real Aid. If enough citizens form a critical mass around the world, your voice can influence governments to respond leading to sweeping and systematic changes in aid policy. Working with development stakeholders The Real Aid Campaign is actively transforming aid policies to deliver more aid more directly through frontline organisations. With so much human suffering, stigma and seclusion attached to poverty – the stakes could not be higher.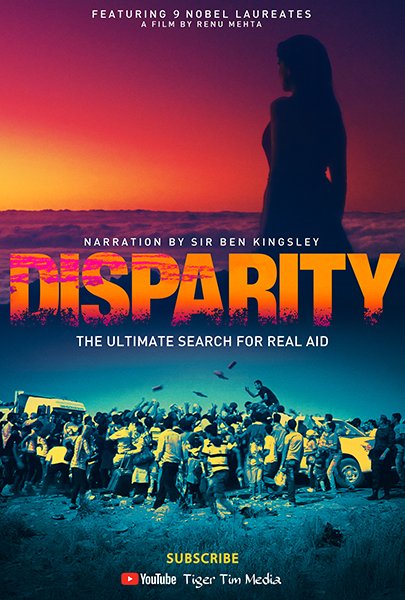 Disparity Film Synopsis
In an Age of great advancements, in the shadow of grand prosperity, why haven't we conquered the blight of our civilization, where almost half of the world's people battle dire poverty? With inequality spiralling out of control, DISPARITY pulls back the curtain on the opaque world of overseas aid to accomplish an unprecedented face-off with the Foreign Aid industry. Activist Renu Mehta presents riveting analysis from an all-star cast of aid experts and insiders, 9 Nobel Laureates, philanthropists and cultural figures. Their captivating insights unravel the complexities and changing face of aid. Together with her colleague Nobel Laureate Economist Sir James Mirrlees, they reveal breakthrough solutions in moving the needle on poverty to inspire the global movement for real aid.
Almost a billion people don't know where their next meal is coming from, against a backdrop of plenty. How can we change their destinies? How much do we really know about the Aid industry that we fund through our taxpayers' money? DISPARITY is the first film ever to examine the outrageous collusion of Aid power structures and the vested interests of major Donor Nations. Aid is often given for military and strategic reasons whether to support contractors in the donor country or tied to its own political or trade interests, at the cost of prolonging merciless poverty. With only 11.6% of global aid budgets delivered through charitable organisations, where does the rest of the aid money go? With so much human suffering, stigma and instability attached to poverty- the stakes could not be higher.
Narrated by Academy Award® winner Sir Ben Kingsley, DISPARITY was made on location in England, Scotland, United States, Peru, Switzerland, India, The Netherlands, Jamaica, Belgium and Germany. Award winning photographers infuse a rich tapestry of captivating cinematography from all seven continents whereby the facets of poverty are poignantly laid bare conveying the deep anguish of our human counterparts. DISPARITY challenges ordinary citizens to confront the fundamental connection between their silent consent of Foreign aid expenditure by their non-participation in holding Governments to account, and ultimately to challenge the very definition of what it means to be human by standing up for justice.
Meet the Influencers who are featured in the film:-
Prof. Abhijit Banerjee, Nobel Laureate for Economics, Prof. Noam Chomsky, Prof. of Linguistics and Philosophy, MIT, Sir Paul Collier, The University of Oxford, Amir Dossal, Former UNOP Director, Global Partnerships Forum Chair, Dr. Ian Goldin, Prof. of Globalisation and Development, Oxford University, Dr. José Ramos-Horta, Nobel Peace Laureate, Dr. Mo Ibrahim, Tech Billionaire & Philanthropist, Tawakkol Karman, Nobel Peace laureate, Kerry Kennedy, President, Robert F Kennedy Human Rights Activists, Sir Ben Kingsley, Oscar winning Actor (Narration), F.W. de Klerk, Nobel Peace Laureate, Philippe Leruth, Former President, International Federation of Journalists, Vijay Mehta, Renowned author & Peace Activist, Sir James Mirrlees, Nobel Laureate for Economics, Jan Pronk, Former Minister for Development, The Netherlands, Prof. Kailash Satyarthi, Nobel Peace Laureate, Prof. Amartya Sen, Nobel Laureate for Economics, Salil Shetty, Former Amnesty International, Secretary General, Prof. Peter Singer, Moral philosopher, Princeton University, Dame Stephanie Shirley, UK Founding Ambassador for Philanthropy, Clare Short, Former UK Secretary of State for International Development, George Soros, Investor & Philanthropist, Hernando de Soto, Economist, Institute for Liberty and Democracy, Dr. Danny Sriskandarajah, CIVICUS, Former Secretary General, Prof. Lord Stern, London School of Economics, Prof. Joseph Stiglitz, Nobel Laureate for Economics, Ted Turner, Media Mogul & Philanthropist, Ruby Wax, Comedian & Mental Health Campaigner, Dame Vivienne Westwood, Fashion Designer & Activist, Prof. Muhammad Yunus, Nobel Peace laureate.
Copyright© 2016-21 Tiger Tim Productions, all rights reserved.
TAGS: country aid, international charities, direct funding, disparity film, political interests, foreign aid, global charities, favourite charities, development stakeholders, fight against poverty, donor country, recipient country, film industry, systemic disparity, systemic inequality, media professionals, eradication of poverty, international day for the eradication of poverty, ben kingsley, foreign aid industry, aid industry, overseas charities, influence policy, global aid, growing inequality, inequality documentary, global influencers, cultural icons, community activists, social media, film screening, take action, human suffering, untied aid, globalisation and development, power structures, end poverty, all-star cast, documentary movies, inequality for all, documentaries to watch, documentary films, watch documentaries online, documentaries online, documentary now, money and power, watch free movies, video documentary, documentary online, youtube documentary, documentary youtube, new movies on youtube, film youtube channel, watch free videos, free to watch video, media freedom, global inequality, poor countries, poverty documentary channel, best documentaries on youtube, documentary movies on youtube, top documentary, video with subtitles, youtube movie with subtitles, documentary videos, new documentaries, free documentaries movies, documentaries free to watch, documentary about inequality, poverty and inequality, top documentary, watch free documentaries, social change, social change documentary, rich and poor divide, poverty in america, poverty in usa, people power, poverty industry, watch youtube, youtube home, film youtube, youtube live, youtube news, movies youtube, youtube documentaries.